I should title this post "The Least Macabre Paintings I Could Find by the Artist Nicola Samori." I love his figurative works: the simplified compositions, the suggestions of movement and time, his paint application style, texture, articulation and decay – even his color palette, though admittedly it's on the darker of the very dark Italian tastes. I enjoy everything about these works except the death, and you know I loves me some death. I don't know what it is exactly, but somehow this guy makes death just way too …deathy for me. And it's not like there was a year or so where this guy got a little dark. He's been very consistently painting deathy-death paintings for years – not decades, he's only in his late 30's, but still. He's in it, and I don't think he's pepping up any time soon. Still, even with all this creepy, I like what he does with the paint. So I've done my best to find works that are light on the deathiness. If you don't mind these, if you feel you need the full dose of his Catholic deathiness, look him up on the Google.
The Least Death-Deathiness Paintings I Could Find by the Artist Nicola Samori
(A disturbingly small collection)
Whereas artist interviews illuminate the character and thought process of the artist, and this almost always deepens my understanding, and thus my enjoyment of their work, this egotistical whining clump of vine-rotting fennel called Nicola is causing me to doubt my decision to include this….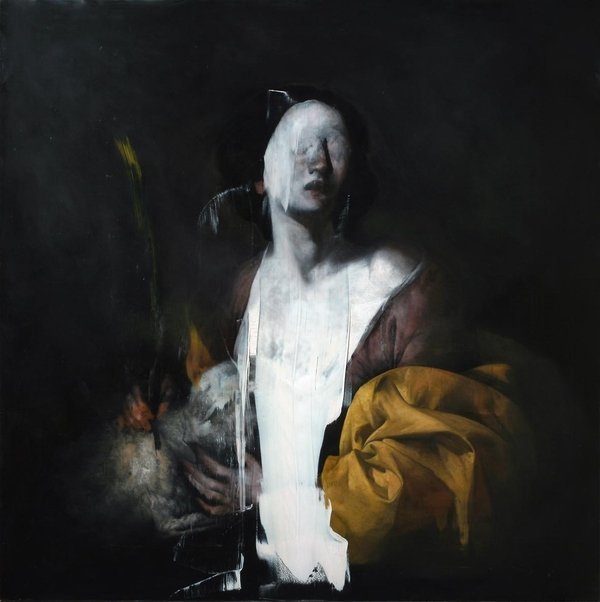 Agnese, 2009, oil on copper, 100 x 100 cm, image courtesy of Nicola Samorì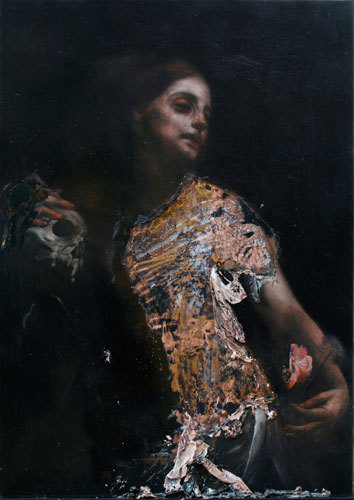 Larvatorum, 2010, oil on copper, 70 x 50 cm, image courtesy of Nicola Samorì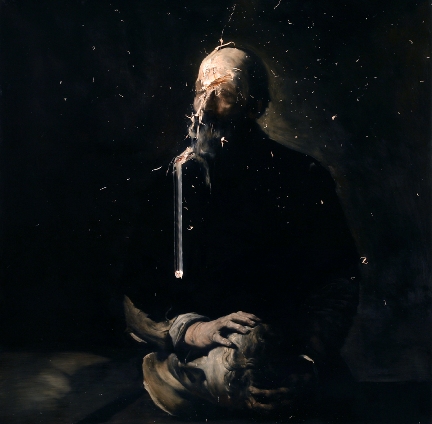 Simonia (Gambassi), 2008, oil on copper, 100 x 100 cm, image courtesy of Nicola Samorì
MB: What inspired the mood of your art?
NS: My work stems from fear: fear of the body, of death, of men. I think my nature as an artist is something like feeling hopeless. Works are just temporary shelters and painting is a leisure place where you can conceal yourself.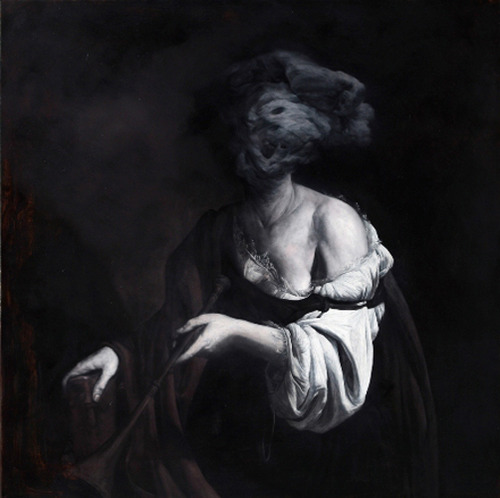 La Storia, 2009, oil on copper, 100 x 100 cm, image courtesy of Nicola Samorì
MB: How would you describe the themes in your art?
NS: My works are planes of temporal accumulation and push the image towards its dissolution. My attention is focused on the last moments of a work when a form of exhausted, at-the-limit beauty is impressed in it. I like taking the image to a breaking point, putting its form into danger.
MB: What motivates your art?
NS: There's no particular reason. You just chase it.
MB: When I look at your work, I am struck by the moody atmosphere and the literal darkness of the imagery. Is this a reflection of you? Can you describe to me how this moodiness/darkness that appears in your work connects to you personally?
NS: It is an unconscious mirror perhaps, sort of an exorcism to take away something from you or give form to whatever you do not want to live. What is shown in my work is what I have escaped.
MB: Do you feel that the public understands your work? Does it matter to you that you are understood?
NS: It's nice to feel you are understood but it's not vital. I like strong reactions: disturbing, entering the people's minds, changing the people who get in contact with a work of mine, even if for a very short time. It's hard to feel you are completely understood since I am the first one who changes his mind about his works all the time.
MB: What do you want people to know about you?
NS: That I am not kidding, that art can be a very serious matter. Private matters must be kept private.
MB: What is your life like?
NS: Not bad. I am married to a wonderful person, I live in a very beautiful house, I earn a lot, I just love what I do, I meet interesting people. However, I do not forget that everything is vanity, that I need art especially to count the days passing by.
MB: Do you have any figures in art history that you look up to?
NS: A great number. It wouldn't make sense to draw up a list of all the artists who have influenced my art, but I cannot restrain from mentioning Michelangelo, even if it may appear quite obvious. I think he is the greatest creative mystery of our species, the very personification of Western aesthetics.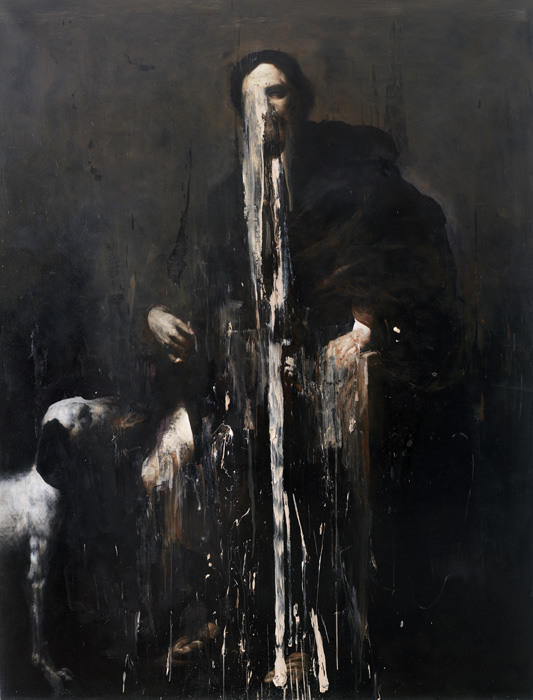 Simonia (J.R.S.R.), 2009, oil on linen, 200 x 150 cm, image courtesy of Nicola Samorì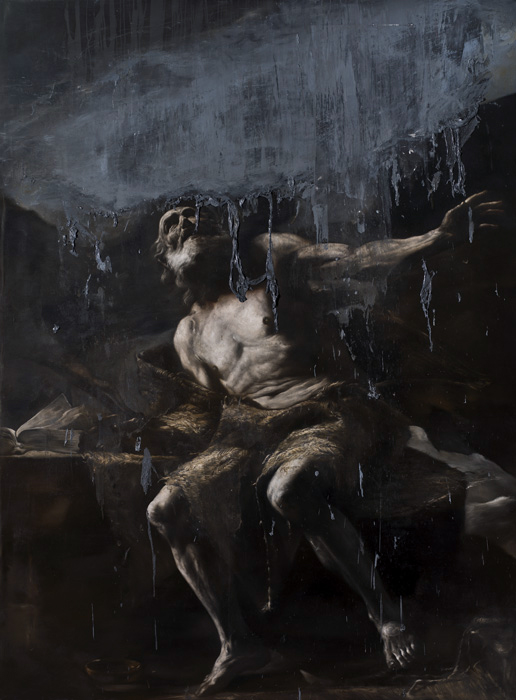 Nubifregio, 2010, oil on linen, 200 x 150 cm, image courtesy of Nicola Samorì